Timothy J. Collier, PhD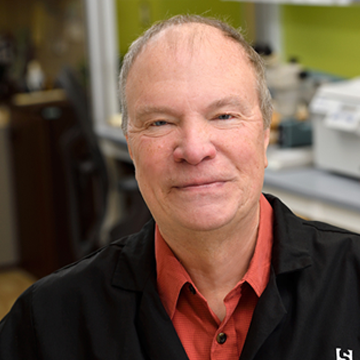 Professor of Translational Neuroscience
Edwin A. Brophy Endowed Chair in Central Nervous System Disorders
Director, Michigan State University Udall Center of Excellence
Department of Translational Neuroscience
Michigan State University College of Human Medicine
Teaching Faculty, MSU Neuroscience Program and MSU BioMolecular Science
Grand Rapids Research Center
400 Monroe Ave NW, Grand Rapids, MI 49503
Phone: 616.234.0953
Fax: 616.234.0991
Biography
Tim Collier received his undergraduate training in psychology at the University of Minnesota and his Ph.D. training in psychology and neuroscience at Northwestern University in Evanston, IL.  He did his postdoctoral training at the University of Rochester with Dr. John Sladek Jr. where he focused on cell transplantation in animal models of Parkinson's disease and aging. Dr. Collier joined the faculty as a Professor in the Department of Translational Neuroscience at the Michigan State University College of Human Medicine campus in Grand Rapids, MI in 2010.  He has served as the Director of the Udall Center of Excellence in Parkinson's Disease Research at Michigan State University, and currently is the Edwin Brophy Endowed Chair in Central Nervous System Disorders.  Here his research focuses on the relationship between aging and neurodegenerative diseases and repurposing drugs for treatment of Parkinson's disease.
---
Education
| Institution | Field of Study | Degree Earned | Year |
| --- | --- | --- | --- |
| University of Minnesota, Minneapolis, MN | Psychology | B.A. | 1974 |
| Northwestern University, Evanston, IL | Psychology/Neuroscience | M.S. | 1979 |
| Northwestern University, Evanston, IL | Psychology/Neuroscience | Ph.D. | 1983 |
| University of Rochester School of Medicine, Rochester, NY | Neurobiology and Anatomy | Fellow | 1982-1985 |
---
Research Interests
Dr. Collier's research utilizes primary cell culture, rat and nonhuman primate models to study mechanisms of central nervous system aging, neurodegenerative diseases and the relationship between the two.  Current work emphasizes etiology and experimental therapeutics related to Parkinson's disease. Current projects include collaborations in neurobiology of aging, neural growth factor gene therapy, and re-purposing drugs for Parkinson's disease.  Additional interests include lifestyle factors for individuals with neurodegenerative diseases, including the benefits of diet and exercise.
---
Technical Expertise
Primary neuronal cultures
Stereotaxic surgery
Immunohistochemistry, immunocytochemistry, microscopy
Embryonic and adult brain tissue microdissection
Behavioral evaluations of motor performance in rodents
Stereology
---