Scott E. Counts, PhD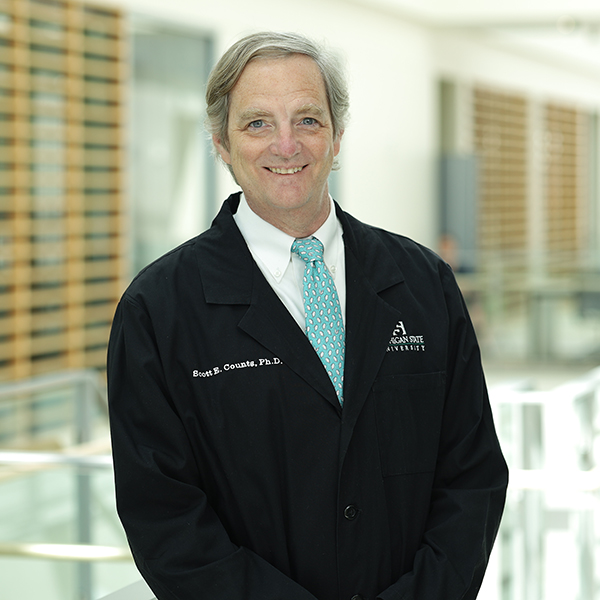 Associate Professor of Translational Neuroscience
Department of Translational Neuroscience
Michigan State University College of Human Medicine
Grand Rapids Research Center
400 Monroe Ave NW, Grand Rapids, MI 49503
Phone: 616.234.0997
Fax: 616.234.0991
Biography
Scott received his undergraduate degree from Davidson College, concentrating in History and English. After working for several years as a chemist at the U.S. Centers for Disease Control, he went on to earn his Ph.D. in Neuroscience from Emory University, studying mechanisms of familial Alzheimer's Disease (AD) with Dr. Allan Levey. He then joined Dr. Elliott Mufson's lab at Rush University Medical Center to study cholinergic mechanisms of AD and its prodromal stage, mild cognitive impairment (MCI), as part of Rush's NIA-funded Training Program in Age-related Neurodegenerative Disorders. Following his postdoctoral training, Scott was appointed as an Assistant Professor of Neurological Sciences at Rush. In 2013, he was recruited to Michigan State University as an Associate Professor of Translational Neuroscience (primary) and Family Medicine (secondary) at the Grand Rapids campus. His current research focuses on molecular mechanisms of neuronal projection system vulnerability in MCI/AD as well as vascular contributions to dementia.
---
Education
| Institution | Field of Study | Degree Earned | Year |
| --- | --- | --- | --- |
| Davidson College, Davidson, NC | History, English | A.B. | 1986 |
| Emory University School of Medicine, Atlanta, GA  | Neuroscience | Ph.D | 2000 |
---
Research Interests
The goals of Dr. Counts' research are two-fold: 1) to identify mechanisms of neuronal projection system vulnerability in MCI, AD and related dementias (ADRD), and 2) to understand the role of cerebrovascular pathology in the progression of ADRD. Currently funded projects involve the quantitative evaluation of neuronal expression profiles and tau pathological spread within memory and attentional networks in clinically and pathologically well-characterized human tissue samples, modeling the mechanistic effects of noradrenergic locus coeruleus and cholinergic nucleus basalis neurodegeneration on forebrain cerebrovascular function in vivo, and novel ADRD biomarkers. These studies are addressed by leveraging the expertise within our own lab as well as the complementary expertise of our many collaborators. Our hope is that bridging the insights gained from these studies with current knowledge of clinical disease and neuropathology will advance translational research into disease-modifying therapeutics.
---
Technical Expertise
Laser Capture Microdissection
Single neuron, glial, and microvascular expression profiling
RNA and microRNA sequencing
Droplet digital PCR
Molecular cloning
Protein biochemistry (immunoblot, ELISA, SIMOA, enzymology)
Quantitative morphometry
Animal models of dementia
Stereotactic surgery
Rodent behavior
Primary neuron, neuronotypic, and 3D neurovascular cell culture
In vitro and in vivo gene transfer and pharmacology
Tissue and cell culture functional assays
Immunohistochemistry and histology
Brightfield and fluorescence microscopy
---