Nicholas M. Kanaan, PhD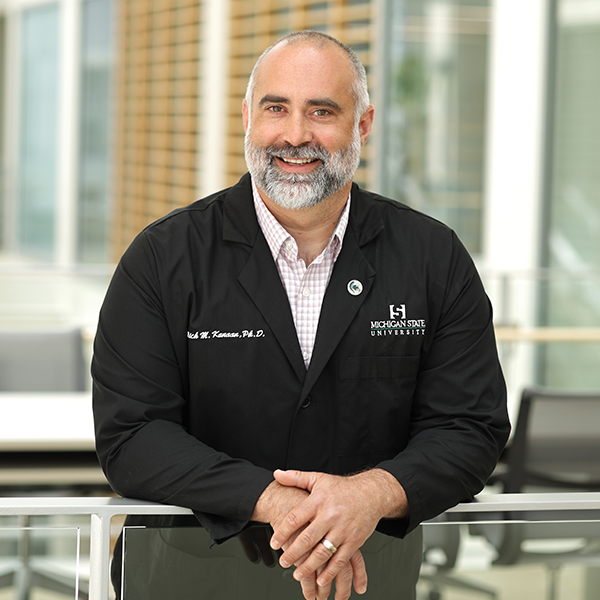 Professor of Translational Neuroscience
Maibach Smiley Professor of Alzheimer's Research
MSU College of Human Medicine Department of Translational Neuroscience
Director of Advanced Microscopy
Teaching Faculty, MSU Neuroscience Program and MSU BioMolecular Science
Grand Rapids Research Center
400 Monroe Ave NW, Grand Rapids, MI 49503
Phone: 616.234.0956
Fax: 616.234.0991
Biography
Dr. Kanaan grew up in Canton, MI and obtained a B.S. in Neuroscience, Psychology, and Sociology from Central Michigan University (Mt. Pleasant, MI). He then went to Chicago, IL to obtain a Ph.D. in Neurological Sciences from Rush University Medical Center, and then stayed in Chicago for his postdoctoral training with Dr. Lester Binder at Northwestern University. His interests outside of the lab include photography, woodworking and fishing.
---
Education
| Institution | Field of Study | Degree Earned | Year |
| --- | --- | --- | --- |
| Central Michigan University, Mt. Pleasant, MI | Neuroscience, Psychology & Sociology | B.S. | 2001 |
| Rush University Medical Center, Chicago, IL | Neurological Sciences | Ph.D | 2007 |
| Northwestern University, Chicago, IL | Cell and Molecular Biology | Postdoctoral Fellow | 2007-2010 |
---
Research Interests
Dr. Kanaan's laboratory researches aging-related neurodegenerative diseases such as Alzheimer's disease, frontotemporal dementias and Parkinson's disease. Studies in the Kanaan lab focus on the molecular mechanisms underlying degenerative diseases and exploring therapeutic strategies through a combination of experimental approaches, including various in vitro and in vivo model systems and novel monoclonal antibody production. Regardless of his specific basic science endeavors, Dr. Kanaan aims is to conduct research that will ultimately translate into improvements in the lives of the people affected by these devastating diseases.
---
Technical Expertise
Recombinant protein purification
Cell culture (primary neurons and multiple cell lines)
Monoclonal antibody production
Virus-based gene expression in neurons
PCR and mutagenesis
Immunoaffinity and size exclusion chromatography
SDS-PAGE
Western blotting
Stereological analyses (including confocal stereology)
Immunohistochemistry
Immunofluorescence
Histology
Microscopy (electron, atomic force, bright field and confocal)
Stereotaxic surgery
Microdissection
Intracerebral transplantation
Rodent behavioral testing
---