Kelly N. DuBois, PhD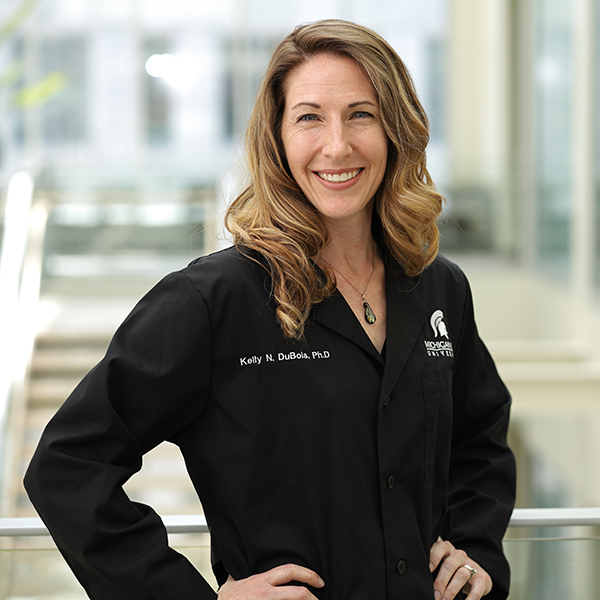 Research Assistant, PostDoc
Kanaan Lab
Department of Translational Neuroscience
Michigan State University College of Human Medicine
Grand Rapids Research Center
400 Monroe Ave NW, Grand Rapids, MI 49503
Biography
Dr. DuBois joined the Department of Translational Neuroscience as a postdoctoral fellow in the summer of 2021. She graduated with a B.S. in Biotechnology from Calvin University, after which she completed a Ph.D. in Biomedical Science at the University of California, San Francisco. She then completed a Postdoctoral Fellowship in the Department of Pathology at Cambridge University in the UK, where she studied molecular parasitology. Her current research aims to develop blood-based assays for the detection of Alzheimer's disease and other tauopathies.
---
Education
| Institution | Field of Study | Degree Earned | Year |
| --- | --- | --- | --- |
| Calvin University | Biotechnology | B.S. | 2002 |
| University of California, San Francisco | Biomedical Science | Ph.D. | 2007 |
| Cambridge University | Molecular Parasitology | Fellow | 2008-2011 |
---
Research Interests
Dr. DuBois is working to develop novel assays to detect pathological forms of tau in blood samples, with the goal of detecting Alzheimer's Disease and other tauopathies. She also wants to better understand the normal function of the tau protein and how pathological forms of tau may disrupt its normal function, leading to disease.
---
Technical Expertise
Cell culture
Microscopy (confocal, bright field)
Immunocytochemistry
Cloning
SDS-PAGE
Western blotting
Gene expression analysis
Protein biochemistry
---