Alison I. Bernstein, PhD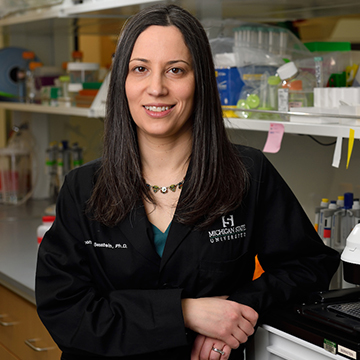 Assistant Professor of Translational Neuroscience
Department of Translational Neuroscience
Michigan State University College of Human Medicine
Grand Rapids Research Center
400 Monroe Ave NW, Grand Rapids, MI 49503
Phone: 616.234.0957
Fax: 616.234.0991
Biography
Alison Bernstein joined the faculty as an Assistant Professor in the Department of Translational Neuroscience at the Michigan State University College of Human Medicine campus in Grand Rapids, MI in 2016. She received her undergraduate training in the Biological Basis of Behavior at the University of Pennsylvania and her Ph.D. training in genetics and neuroscience at Washington University in St. Louis. She did her postdoctoral training at Emory University with Dr. Gary Miller, Dr. Peng Jin, Dr. Allan Levey, and Dr. Jennifer Mullé, where she focused on neurotoxicology and neuroepigenetics in Parkinson's disease. Her research focuses on understanding the role of epigenetics and the environment in the etiology of sporadic Parkinson's disease.
---
Education
| Institution | Field of Study | Degree Earned | Year |
| --- | --- | --- | --- |
| University of Pennsylvania, Philadelphia, PA | Biological Basis of Behavior  | B.A. | 2000 |
| Washington University in St. Louis, St. Louis, MO  | Molecular Genetics and Genomics  | Ph.D | 2009 |
| Emory University, Atlanta, GA | Neuroscience, Neuroepigenetics, Neurotoxicology  | Postdoctoral Fellow | 2009-201 |
---
Research Interests
Dr. Bernstein's research focuses on understanding the epigenetic changes that occur in Parkinson's disease and how alterations to the epigenome by environmental exposures alters Parkinson's disease risk. Work in the lab ranges includes epigenetic studies in human tissue, bioinformatic and statistical analysis, and toxicological studies in animal and cell culture models.
---
Technical Expertise
Genome-wide DNA methylation analysis
Neurotransmitter uptake assays
High throughput imaging analysis
Toxicological rodent models
Cell cultures (primary neurons and cell lines)
SDS-PAGE
Western blotting
Stereological analyses (including confocal stereology)
Immunohistochemistry
Immunofluorescence
Confocal microscopy
---